British iconic culinary invention: sandwiches
Are you looking for ways to make lockdown days different and stop them merging into one? We are all for creative and inventive ways to make our stay at home time a bit more exciting. So why not to take inspiration from British Sandwich Week?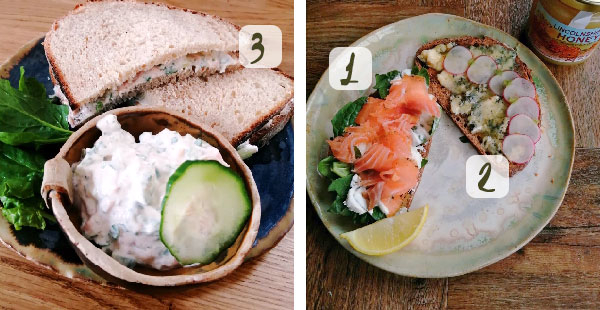 British Sandwich Week is a week-long celebration of quite possibly the most iconic British culinary invention, the Sandwich.
According to a survey cast by the Daily Telegraph In May 2019, the nation's favourite sandwich was announced as cheese and ham ( https://www.telegraph.co.uk/food-and-drink/features/votes-nations-favourite-sandwich-revealed-chosen/)
We are a bit disappointed at its lack of imagination but we guess it is a classic and liked by many…
But if you are looking for something a bit more exciting in these dull times then here are some of our favourite sandwich ideas for the more adventurous;
- Smoked salmon, spinach, cream cheese open sandwich on rye sourdough (number 1 in photo)
- Grilled Stilton with honey and radish tartine (open sandwich) (number 2 in photo)
- Roast beef and red onion marmalade with fresh tomatoes
- Roast chicken, brie and grape
- Beechwood smoked cheddar and streaky bacon
- Chicken, pesto and rocket
- Truffle cheese and grilled mushroom sourdough toastie
- Smoked ham and mustard mayo coleslaw
- Goat's cheese (Goatisan – mature Parmesan style), chargrilled aubergine and sundried tomato tapenade)

- Smoked salmon and cream cheese pate with dill and parsley and finely diced cucumber (number 3 in photo).

What's your favourite?
Posted By The Taste House at 23/05/2020