Presentation and Packing
OUR GIFT BOXES
Our gift boxes are strong & sturdy, with a luxury quality of finish. Designed in the Hay Hampers colours of burgundy and roasted coffee, with only subtle branding, we think you will find them useful and decorative storage after the goodies are gone! The items inside are well protected to survive their journey to your recipient with two types of loose fill.


OUR WICKER BASKETS
We have a range of traditional lidded wicker hamper baskets made of buff willow from sustainable sources, with leatherette hinges, handles and clasp or buckle fastenings. Items inside are protected with wood wool. They come in 7 sizes. Here are a selection of three to demonstate the shape and fastening types. A wonderful lasting element to your food and wine Christmas or birthday gift. For ideas on how to reuse the basket after the delicious contents have been consumed, view our pinterest board here.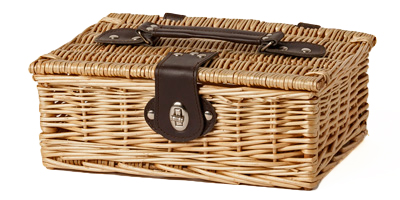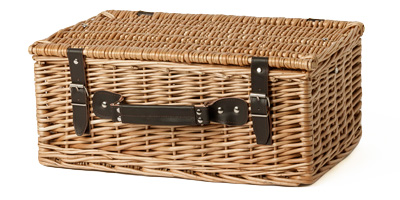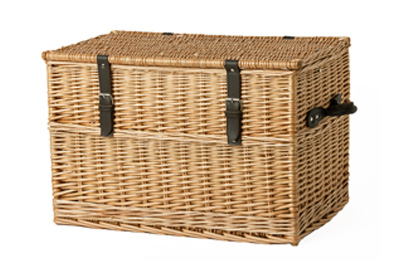 MORE HAMPER TYPES
We have been working to expand the range of vessels we use to create our hampers. We have sourced a range of woven basket trays made of a combination of willow and wood weave, in burgundy red and natural colours. We also have a hessian Santa sack and are on the look out for new and exciting presentation items.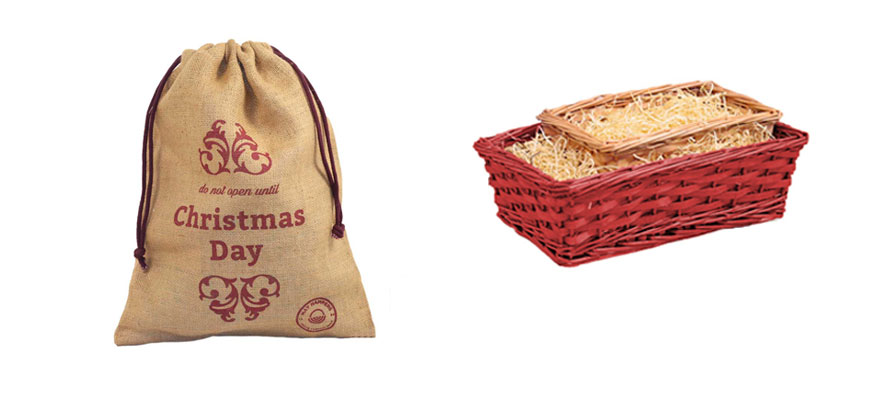 WOOD BOXES
Our superior wood boxes with metal hinges and catch, are made of solid wood with a smooth, matt, natural, tactile finish. Designed and manufactured by Italian carpenters with special patented rounded corners.

COOL BAGS 'Make Hay while the sun shines'
Hay Hampers has introduced a branded cool bag. The picnic cool bag is properly insulated to keep things chilled. With a zip seal and long, strong handles, they are built to last for many happy future picnics!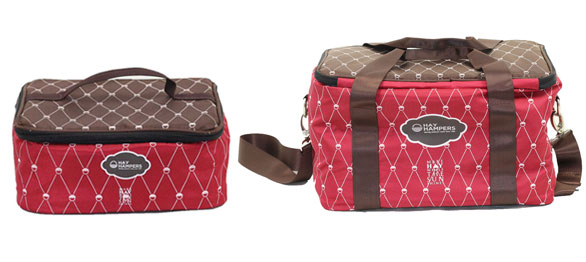 A personal message, printed gift card - FREE of charge
This service is unique to Hay Hampers. A free, printed, personal message, gift card. Sealed in an envelope in with your gift. With a general best wishes title this card is perfect if you are sending your hamper as a Christmas gift or as a Birthday gift or as a Thank you gift the card will be appropriate to all, yet still feel seasonal.
Branding options for corporate customers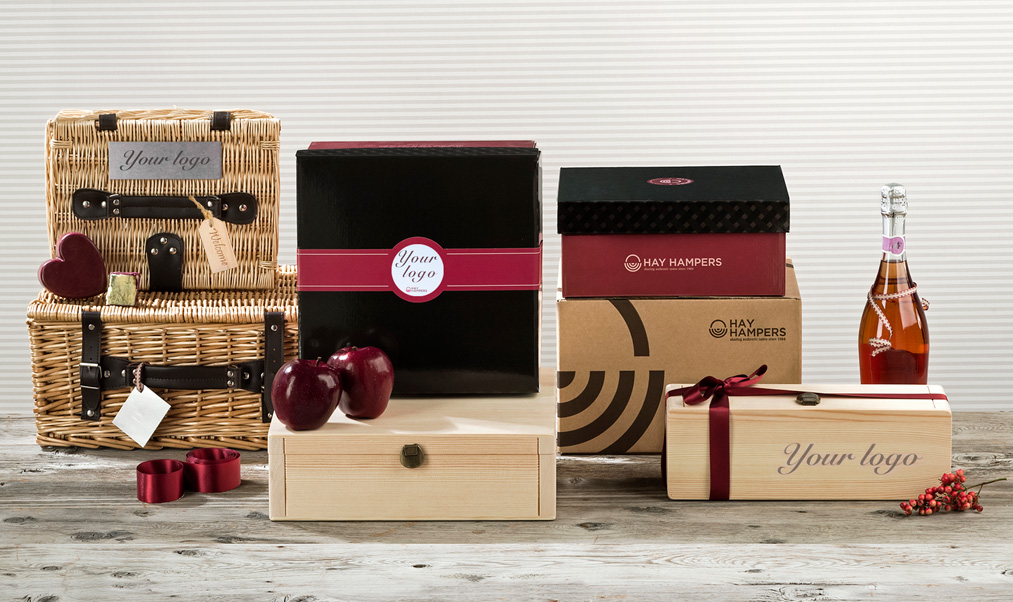 We have several branding options available to corporate customers (subject to agreed minimum quantity requirements). We can have metal plates engraved, leather tags branded, wood boxes screen printed, or paper or fabric ribbons added to gift boxes. We will always try to find solutions to offer exactly what you are after.
Protective outer packaging
All our food and wine gifts are packed in strong containers: sturdy gift box cartons, wood boxes, wicker baskets and cool bags. Depending on the contents of your gift, we usually pack glass items in bubble wrap and use either wood wool or Bio loose fill to protect your gift in transit. The whole gift and container is then enclosed in a strong cardboard outer.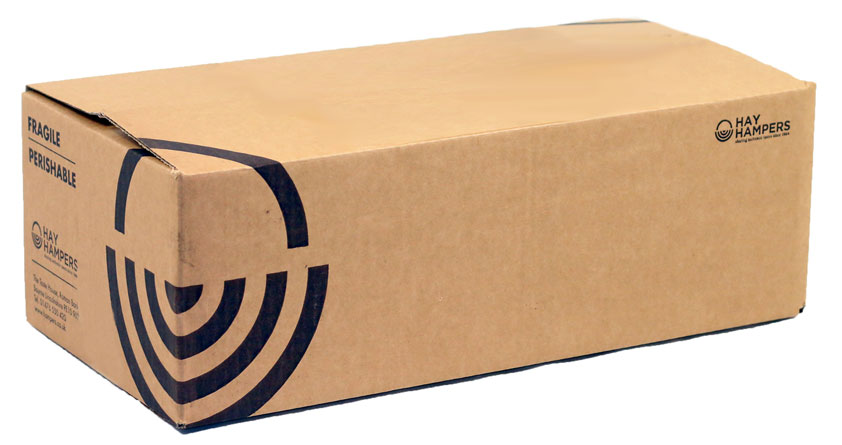 Sustainability is important to us
We understand the impact that the packaging we use has on the environment and are therefore committed to continuously sourcing and using environmentally friendly packaging for our hamper gifts and for the items within our hampers wherever possible. 2018/9 we are making it our aim to reduce plastics to an absolute minimum.
Our outer boxes are made from 70% minimum recycled material and are from 100% FSC sources. Wood wool is used to safe guard the contents of the wicker hampers. This is entirely biodegradable and is eco-friendly from FSC sustainable sources. Our loose fill shredded paper is made from British recycled paper. Occasionally we need to use flow pack to ensure safe transit of easily damaged items, we are still looking for a biodegradable options that do not 'melt' in transit.
We make our gift boxes to a luxury finish in the hope you will enjoy reusing them, however the large and medium sizes are completely recyclable, the small is recyclable but you need to remove the magnets before placing in your recycle bin. Our willow hampers and trays are made from entirely renewable resources.
We understandthat their transportation via container ships is damaging to the environment and so we nest efficiently where possible and minimise any external packaging used in transit.
Insured and tracked for safe arrival
The gifts are dispatched via courier, are insured and tracked. The delivery driver will need a signature for receipt of gift, so it is important to ensure there will be someone at the recipient's address during working hours (Monday to Friday 8am to 5.30pm) & that the address you are sending to is up to date and accurate. You will receive an email from us informing you that the item has been shipped with a link to the tracking page of the couriers we used, prefilled with your unique tracking code so that you can view its progress to your recipient.
We have 30 years' experience in packing and sending gift hampers and we select our couriers for their reliability and responsibility, so we pride ourselves on the rarity of any problems but in the unlikely event of damage or loss in transit, we will replace the damaged contents or gift immediately and free of charge providing the following:
The goods are signed for upon receipt as damaged or have been refused because of obvious damage

Any damage which cannot be seen from the outside must be notified to the couriers and Hay Hampers within 7 days.

Damaged goods are retained for inspection and it may be required that they be returned to us at our expense before replacement or refund. Returned goods must clearly show the full name, address and telephone number of the sender.

We cannot accept responsibility for the wrong order or non-delivery, resulting from incorrect information or addresses being provided.