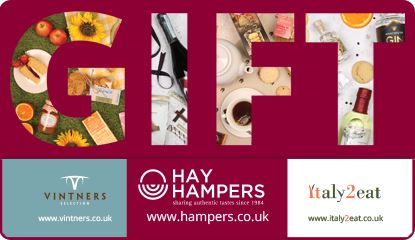 Not sure what to give? Send one of our e-Gift cards and let them choose. Available for any value from £10 to £100, you can choose which day it will be sent and add a personal message.


Order Hay Hampers Gift Voucher

If you wish to purchase a Gift card or voucher for more than £100, please contact our Customer Services team.
If you already have a Gift card or voucher and want to check your card balance, click here: Check Balance
Searching for the ultimate gift that will delight your loved ones this Christmas or impress your corporate partners and clients? Look no further! Our luxury gourmet food hamper gift vouchers are the perfect solution.
Why Choose Our Gift Vouchers?
Unforgettable Gourmet Experiences: Our vouchers unlock a world of culinary delights, featuring handpicked gourmet items and luxury treats that will make every occasion special. Customizable Options: Tailor your gift voucher to suit your recipient's preferences, ensuring a personalized touch that won't go unnoticed. Premium Quality: We source the finest ingredients and products, curated with precision to create hampers that exude luxury and taste. Ideal for Corporate Gifting: Impress your clients, employees, and partners with a gourmet gift that reflects your appreciation and sophistication.
For Christmas:
Make this holiday season unforgettable with our Christmas-themed gourmet food hamper gift vouchers. Surprise your friends and family with a gift that embodies the spirit of giving. The joy of a delectable meal shared with loved ones is a memory that will last a lifetime.
For Corporate Gifting:
Looking to strengthen your business relationships? Our gourmet food hamper gift vouchers are the key to leaving a lasting impression. Show your appreciation and gratitude with a gesture that speaks volumes.