Sourdough September is here
Sourdough September is here! Although many have already spent many months with their new 'babies' - started at the beginning of the pandemic when we all found ourselves with more time and the supermarket shelves empty of bread. We loved the twitter by Louise O'Conner, which stated "A sourdough starter is a tamagotchi for people in their 30s" .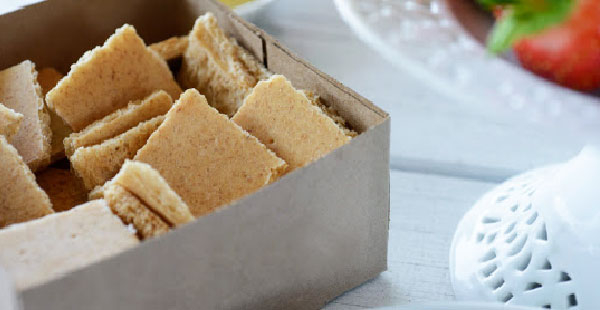 The majority of people are now familiar with the crackled, crisp crusted, deep bubbled variety of bread that features on many an Instagram account. But are you as familiar with its use in other dough made products?
For example, included in the range of crackers and cheese biscuits in our cheese hampers, we have one made with sourdough- Sourdough Crackers 'Minitele', Figulì 50g.
Our sourdough crackers are made in Italy. Italy is one of the many countries in Europe where the use of sourdough as a natural method of leavening has been around for many years. Examples of its use there include pizzas often made with sourdough for extra flavour, Camaldoli and Pane Di Altamura; famous and protected regional sourdough breads.
Our crackers are made with a mixture of 4 types of soft and durum wheat flours, chosen from ancient varieties, according to the characteristics of the harvest season and a whole-wheat sourdough. The resulting flavour is excellent and stands up really well even next to the very strong cheeses in our range.
The other dough item in our range where a slow, controlled and balanced prove is required is our panettone, the festive Italian sweet and fruity, enriched bread/cake included in many of our Christmas hampers.
Panettone is made with sourdough that is fed frequently and maintained at a warm temperature to render it less acidic than a typical starter. It also needs to be a stiff sourdough, unlike the more commonly used looser starters used for bread.
The sourdough element is why artisan panettone can last so much longer than non-sourdough breads. This long and balanced sourdough proofing/lactic fermentation is one of the oldest food conservation methods. Panettone goes through more than 30 hours of slow proofing, at controlled temperature and through many other processes. The butter in the dough also keeps the dough soft and prevents it from drying out. Did you know the natural acidity of sourdough bread discourages bacteria, so it takes longer than yeasted bread to develop any kind of mould?
So, not only is sourdough longer lasting, it is also more digestible than standard loaves and more nutritious too. Lactic acids make the vitamins and minerals in the flour more available to the body by helping neutralise the phytates in flour that would interfere with their absorption
The advantage of authentic sourdough for anyone with gluten sensitivity (as opposed to coeliac disease) is that the lengthy fermentation process pre-digests the gluten, breaking down some of the indigestible proteins and literally making the bread easier to stomach.
All in all, sourdough is about time, expertise and experience gathered over millennia to produce a more nutritious, delicious and efficient final product. True food passion. And we are proud to include this time and passion our hampers.