Although we have expanded our range of vegetarian and vegan hampers this year, we are also keen to cater for those that enjoy their meat and for those flexitarians who enjoy meat less regularly and want their meat to be of the highest possible quality and taste experience.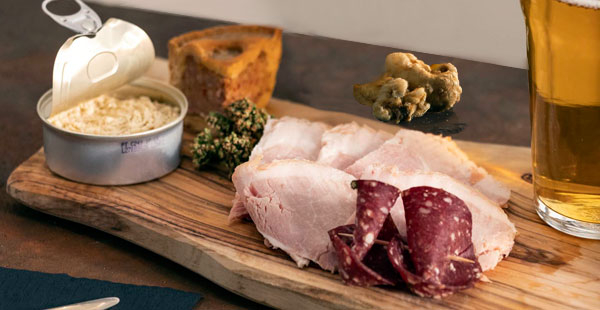 We have a range of gourmet hampers with award winning products and here are the stories behind them and the producers that make the meats. Come and join us in this discovery journey!
Scottish Venison charcuterie from Great Glen
Using only wild Scottish venison, this family business produce all their products by hand in the rugged setting of the Highlands. The green peppercorn, air dried salami we take from them is a 3 star Great Taste Award winner. It is stunning in a seeded bread sandwich with roasted peppers and cream cheese.
French pâté terrines from Roger Vidal, Aveyron region
Roger Vidal is a family run-company located in the South of the Aveyron, created in the 1970s. Butchers from father to son for many generations, the terrines recipes are the work of expertise and a regional tradition. We take three varied types of pate terrine from Roger: one made with venison due to their heritage of hunting; one with duck and orange, a sweet savoury combination so typical of the region; one made with Champagne because some liquor notes exalt the finest preparations.
Butcher Cooked Ham from our local butcher
From Alec Day – our local, highly regarded, traditional, family-owned, Lincolnshire butcher. Slice thinly and serve as part of a cold cuts buffet with piccalilli, enjoy with English mustard, thinly sliced tomatoes on thick cut granary bread sandwich. Or chunky dice for a ham and leek pie.
Chilli Pork Pie from Toppings Pies, Yorkshire
Founded in 1961, this family butchers turned bakers in its second generation when the handmade pies the butcher's wife made started to really make a stir beyond their home town! Made with prime British Red Tractor pork meat mixed with a 3 chilli seasoning (instead of the traditional black pepper) encased in a rich hot water pastry crust. Another Great Taste Gold winner!
Game Pie from Toppings Pies, Yorkshire
Also from our favourite Yorkshire based butcher/bakers, this game pie was calling out to us when we started to make connections with the British Association of Shooting and Conservation. A succulent assortment of seasonal game sandwiched between layers of prime pork, a layer of delicious cranberries compliment the flavours of a rich chicken liver pate made to a traditional homemade recipe.
Italian Salsiccia Salamis from Burgentino, Southern Italy
Made by a true artisan from the Lucan area of Southern Italy which has centuries of experience preserving and processing pork. Domenico raises his own animals on a diet that follows a natural process. On the same farm, he creates perfectly seasoned sausage salami products without adding colourings, preservatives, gluten or GMOs. We have four types: sweet paprika and wild fennel, spicy paprika and wild fennel, truffle and soppressata - which varies from a salami in its size, the cuts of meat and the seasoning.
Chorizo Thins from Made for Drink, Berkshire
New for 2019, these award winning Chorizo Thins are made by a relatively new start-up family business from Berkshire who have the humble ambition of making the world's best bar snacks.
Chorizo Thins are slices of authentic Spanish Chorizo gently roasted until crisp, crunchy and intensely delicious with a glass of Rioja, inspired by a love of Spanish tapas!
Pork Scratchings Waves from Ray Gray, Staffordshire
This year we set about finding the very best pork scratching and this wave was our winner. A great balance and tasty compromise between traditional and the very contemporary. Not quite scratchings and not quite crunch, these light crispy pieces of fried pork rind are all the taste of both and Gluten Free! And these guys have 50 years pure experience making pork snacks so they know their bacon!
Nduja, Calabrian speciality from Italy
A very cool and current ingredient and snack, 'Nduja is defined as a spicy spreadable salami, prepared with lard, bacon, lean pork and sun dried Calabrian chilli peppers; our salami is then smoked successively with oak, olive and acacia wood and then left to age. 'Nduja finds many uses in cooking; it is delicious with eggs or on pizza, and it is perfect to flavour sauces and vegetable soups, but is also delicious simply spread on a cracker of piece of bread. It comes in an easy to use sac à poche dispenser, just cut the end and squeeze.