Introducing Pheasantry brewery - Beer Assortment
This year we decided to source a new local ale to reinvigorate and refresh our beer gift assortment, which is especially popular for Father's day gifts with hampers of beer and cheese or beer and bar snacks. We have a number of repeat order customers and we know that you don't always want to send exactly the same gift year on year, so 2020 is new and invigorated for a fresh take on previous Father's day favourites.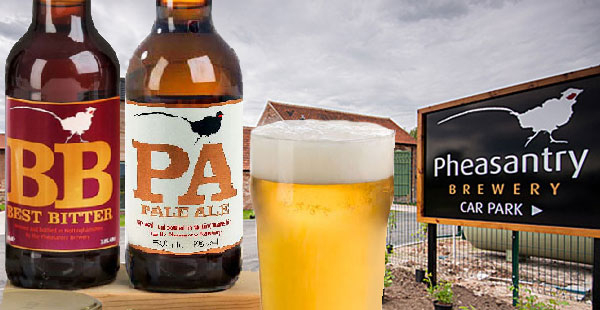 So, we went about sourcing a new small craft brewery range of ales. Our previous range was Lincolnshire based, as we are, and it was important to us to try to continue to support local businesses, if possible family owned like we are. We do enjoy supporting each other!
In this search we came across Pheasantry Brewery. Although in Nottinghamshire, they are based in Newark which is actually closer to us than Lincoln.
They are a brewery owned by husband and wife team with a passion for ale. They are the third generation of farmers, growing cereals, vegetables and sugar beet at their farm.
In 2012 they decided to diversify their farm business and converted original farm buildings into a modern micro-brewery
The farm building they converted was next to a cottage which original maps show was a Pheasantry used for breeding and rearing game birds.
The area has history of brewing and was an important hop growing region for around 150 years from the early 18th century, with nearby Tuxford having its own Hop Fair. The farm sale details from 1943 show that the field down from the brewery gardens was called the Hopyard, and there are hops growing wild in the hedges there today.
They have also found documents showing there was a brew house within the original buildings used for the owner's personal use.
Mark and Mary use traditional methods to brew their small batch beers. They do however use state of the art equipment in our microbrewery but the beers are brewed using traditional methods and using malted barley grown on their farm.
We have selected two of their core beers. One a Best Bitter - voted Champion Bitter of Britain in 2015. Described as a well-balanced copper coloured beer with fruity highlights and a hoppy finish.
3.8% ABV
And a Pale Ale, described as a light slightly dry modern pale ale. Thirst quenching, a touch of vanilla with a subtle floral aroma. 4.0% ABV.
We are delighted to welcome them to our range.And we hope you enjoy them as much as we do.
Posted By The Taste House at 03/06/2020