How to make bread without yeast
Several of our Hay Hampers elves are also very keen bakers of bread.
So, although not strictly related to our Hampers we thought it might be helpful to our customers to share our knowledge of bread baking if you can't get hold of dried or fresh yeast (but are fortunate enough to get hold of flour), and share our passion for food which drove us to this hampers business in the first place!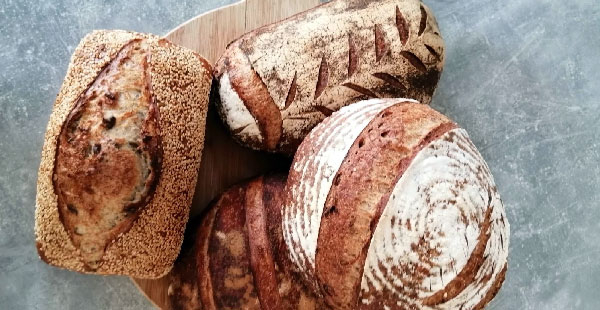 First you need to create your natural yeast starter, where you gather the natural yeast that floats about everywhere in the air around us and feed it over a period of 6 days or so to build it up to create you 'mother' or 'starter' or 'levain'. The method to do this is below – alternatively ask someone who already has one to give you a bit of theirs.
Day 1
Mix 50g strong flour with 50g of water in a bowl of your choosing. Cover with a cloth and leave at room temp
Day 2-5
Repeat day 1 each day adding 50g and 50g, stirring, covering and leaving at room temp. we also like to give it a walk around the garden while stiring in the hope of capturing the wild yeast in the air.
It will start to develop a sour smell and create bubbles, it may separate a bit but all this is good, just stir it back when you feed it.
Day 6
Throw away about 80% of your starter so you are left with about 100g! Now feed it with 60g flour and 60g water. Leave it to bubble up for 6-12 hours or so (depending on environmental situation) and then you are ready to use it in the recipe below.
Once used refrigerate in a kilner jar or similar. When you want to use it again, remove from the fridge bring to room temperature, then repeat day 6 before using.
Our sourdough recipe is
600g flour,

12g salt,

80g sourdough starter

360-380g Luke warm water. The amount of water varies depending on the starter if it's really wet and bubbly or not.
Mix the starter with half the water, add the flour and salt and start to mix, add the remaining water a bit at a time until the dough comes together and is slightly tacky to touch. You may not need all the water.
Once the dough has come together leave for 10mins in the bowl covered in a tea towel.
Knead again for a couple of minutes then leave for another 10mins.
Repeat this 2 more times, the dough should be smooth.
Once you've done that cling film the bowl and leave for 18-24 hours so it doubles in size.
Knock back and shape and put in the proving basket with a tea towel over it for another 4-6hours to re-prove.
Pre heat your oven to 220 degrees and pre heat the baking tray. When ready to cook turn out the dough onto the heated tray, slash the top of the bread if you want with a really sharp knife and bake for 30-35 mins until hollow sounding.
Don't be mistaken – it isn't easy, it is a long process and there will be failures! But over time you get to know your sourdough better and it's particular likes and dislikes and there really is nothing tastier! It also lasts a lot longer than dried yeast made bread, in fact the flavour improves and it gets easier to slice nice and thinly.
Best of luck – hope this helps!
Posted By The Taste House at 29/05/2020