October 25th is World Pasta Day
On World pasta day we take a look at the three types of pasta we include in our speciality Italian hamper gifts, and what makes it truly special and authentic.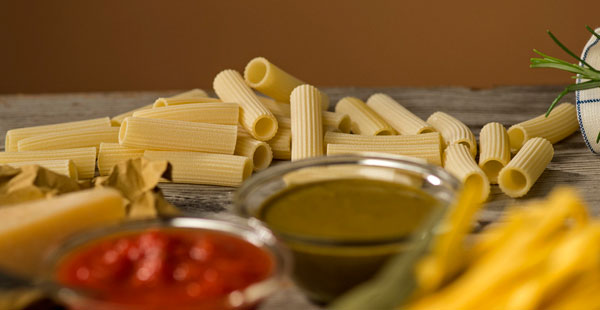 Pasta in the South of Italy is made from traditionally from two simple ingredients: durum wheat semolina and water.
With only two ingredients, their quality determines the final result. Particularly, the wheat used makes a huge difference on the quality of pasta.
It is the quality and quantity of the gluten present that primarily determines the quality of the wheat. When the wheat is mixed with the water to form the dough, this starts a process that integrates two proteins in the wheat to make gluten. The gluten forms a structure around the starch that has also come from the wheat, forming a uniform textured dough ready to make pasta.
The much sought after 'al dente' texture of cooked pasta is a result of the gluten working its hardest to protect the internal structure of the pasta and giving it strength as it is cooked in boiling water. If the water that the pasta is cooked in remains colourless, then you can be assured that the gluten has done a good job and kept the starch under control. In this case, the result is 'al dente' pasta. Out of control, the starch will absorb the cooking water and swell until it breaks; the result is cloudy cooking water and soggy pasta.
Our wheat pasta is made using robust durum wheat semolina sourced locally in the south of Italy, precisely in Lucania area. Various checks and measures determine the strength of the gluten present in each batch of wheat, and only wheat with premium quality and right quantity of wheat is used.
We also have a range of pasta all'uovo which is made with the addition of egg. This adds richness, silky texture and colour from the yellow of the yolk. It was traditionally added in the Northern regions of Italy. It came about because in the north the local flour is a softer wheat flour which is lower in protein than the southern durum style and hence in need of the egg protein to help to bind the dough. We have both egg Tagliatelle and shaped Gnocchetti Sardi.
Neither egg not durum wheat is more traditional than the other. Different towns and regions have different traditions.
We also have a third type of pasta, a gluten free pasta made with chestnut flour. Though pasta was previously considered off the table for those on a gluten free diet and there are now many options available. This version made with ground chestnut flout, is bronze drawn and organic with a strong and decisive flavour of corn and chestnut. It is excellent with pesto or cooked with sage and butter.
Posted By The Taste House at 20/10/2020