In these unprecedented times, we at Hay Hampers Ltd would like to reassure you that, as usual, we care deeply about your purchase and are provinding the best service that we are able, taking every precautions to make sure your gifts arrive safe and on time. We hope you understand that many issues are out of our control.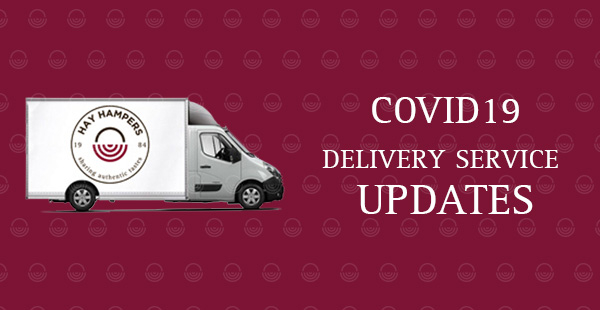 As guidance is changing on a daily basis, we will try to keep you informed as soon as possible on any service changes below.
21th September

Based on continuing assessment on our courier's real world performance, we are maintaining an order cut off time of 12pm for orders to be dispatched on the same day on next working day delivery service.
This excludes perishable hampers placed between 12pm Thursday to 12 pm Friday which cannot be dispatched over a weekend and will be dispatched on a Monday for Tuesday delivery.
If you are seeking named day delivery and it is essential it arrives by that day we suggest you order for delivery the day before. 1 day delays are still possible, and we suggest you consider whether a day earlier is a better risk than a day late?
We all continue to work with covid secure workplace practices, this includes the staff at Hay Hampers, our couriers, our suppliers and producers. We are all striving hard with the thought of the 'responsibility of your gift in our hands', as ever and always, and we thank you in advance for your patience and understanding. We always put our commitment to our customers first and will continue to monitor (to the best of our abilities) what we feel confident in delivering.
15th July

As life continues to return little by little, we have now increased our cut-off time for same day dispatch to 12pm. Orders received before this time will be dispatched the same day on 24 hour delivery, which the courier continues to do their best to honour. The exception to this is for perishable hampers purchased on a Thursday afternoon/Friday morning which cannot be dispatched over a weekend and will be dispatched on a Monday for Tuesday delivery. Dated delivery – we continue to recommend selecting the day before you require it to allow for any unforeseen location specific delays if essential to receive by that date.

30th June

Although life is returning to the new normal, our local carrier depot (i.e our parcels first port of call) is in Leicester and hence there is a possibility their staffing level may be affected by the local level flare up of cases. We have not seen any issues to date but we continue to recommend ordering with dated delivery for the day before required to ensure we minimise disappointment for items that MUST be delivered before a certain day.

9th June
Father's Day COVID19 Delivery Recommendations
We will ALWAYS dispatch your gift the day before the delivery request day on the best express service we can find. 90-95% of gifts are being delivered within 24 hours, but if it is essential you get it before a certain date please pick a day earlier.
The carriers continue to do their best to honour the 24 hour delivery services we pay for. However, the likely level of demand on their service due to Father's Day and continuing social distancing, means we strongly recommend ordering with a delivery date of Thursday rather than Friday as this allows them an extra day to deliver before Father's Day.
(Update 16th June - We are now fully booked for Friday delivery and have removed the option from checkout. - We will be early dispatching as many Friday deliveries as we are able as we believe very few people have taken notice of this message to book one day earlier than needed. Thursday delivery is all we have left but this is likely to sell out before the end of today. We can, of course, deliver on Monday - but you MUST choose a gift that does not contain fresh food such as cheese, or we can deliver Tuesday for fresh food gifts).
The carrier is not offering Sunday delivery this year and Saturday & now FRIDAY deliveries are fully booked.
For certain delivery attempt before Father's Day you must place your order before 9am Wednesday 17th June with a delivery date no later than Thursday 18th June.

12th May
The pandemic is continuing to provide challenges and can affect the delivery promises of the couriers. As suggested below, we would like to remind you that if your gift is required for a certain date and you are selecting dated delivery you select a day or two sooner than required to allow a day's grace for the couriers working in these exceptional times, when unexpected staff shortages can lead to delays. We ship the working day before your selected day on premium delivery, to enable the gift to arrive in the best possible condition.
20th April
Thank you for your patience and understanding at this difficult time.
We are now shifting our cut-off time to 9am. This is in the hope that we can improve on our recent offering and aim to return to dispatching same day again. Orders placed before 9am are eligible for a next working day delivery service. As previously described, we pay for a 24 hour delivery service with the courier and they are doing their very best to provide this. However, there may be specific areas where this is due to staff shortages or the need to prioritise delivery of medical supplies, so delays on the 24 hour service remain possible. If a gift is absolutely required by a certain date, we recommend selecting delivery a day earlier.
16th April
We continue to be really busy with our maximum output often being reached. As it stands today, our first bookable target delivery date is Monday 20th for non perishable hampers and Tuesday 21st for perishable hampers. Our couriers continue to do their level best to get them there but delays are possible due to staff shortages.
We are a small family business who care deeply about all our customers, old and new. Our usual times of business are 9-5, Monday -Friday, but we are all pushing ourselves to work as hard as we can beyond this to try to maximise our output and to keep on top of our emails, live chats, facebook and instagram messages and queries. We thank you for your patience and understanding while we do our very best for you in these difficult circumstances.
5th April
We've been so busy that we can no longer take any new orders for delivery before Easter. However, we're restocking and can deliver gifts from 20th April.
It's possible that your order may be delayed as couriers are facing a sudden increase in demand for mail order goods and they are short in staff because of COVID19.
We thank you in advance for bearing with us during these exceptional times.
2nd April

Our carriers report further restrictions to services.
Unfortunately, although they have so far delivered amazing service under unprecedented demand and difficult conditions, our couriers are reporting a need to further restrict their services.
Hence, we have had to remove from our promises the offer of Next Day delivery and Sunday delivery. Once again, this is to ensure our promises are in line with the likely ability for us and our courier to deliver. As always, we continue to strive to do our best in all conditions. in the most honest way we can.
SUBSTITUTIONS
Due to transport disruptions and food manufacturer closures,we may now need to make product replacements in your hampers. These will be to a similar or greater value. If your recipient has any specific allergies please contact us to ensure we are aware of the specific order.
1st April
It is with sadness that we have had to pull back our cut off time for next day delivery, in order that we maintain an honest service without over-promising. We are overwhelmed with orders and running on as many staff as we are able whilst maintaining safety standards. We will assess the order quantity on a daily basis in order to offer the best possible service we are able. We hope you can understand that we are continuing to strive to do our very best for our customers, and hope you understand the need for the adjustment to our usual standard in these unusual times. Thank you for your understanding.
24th March
STOCK
It is with sadness and disappointment that we have had to put a small number of our hampers out of stock. This is because certain items within them have become difficult to replenish and we cannot make replacements in the context of the concept of the hamper. You will be able to view the hampers but they will now be marked as Out of Stock and will be unavailable for purchase.
Anything showing with stock is still available. 95% of our gifts are unaffected by stock issues. Occasionally a substitution may be made but only where an equivalent item is available to a similar or greater value.
23rd March
MOTHERS DAY UPDATE
We are really proud to say that we managed to pack and send every single one of your Mother's Day gifts on time, even with the massive uplift in demand due to so many mother's having to celebrate mother's day without their children by their side.
We hope the gifts you sent brought comfort and joy!

Our carriers did sterling work in delivering to the best of their abilities with minimal areas being affected and only when staff shortages due to self-isolation became impossible to deliver within the usual 24 hours. Please remember to put notes on the door with instructions if you are unable to answer the door due to isolation.
18th March
UK DELIVERY – DELIVERY GUARANTEES
The courier's service guarantees are being suspended. They will seek to ensure 'all reasonable endeavors' to maintain service levels are made but can no longer be guaranteed.
This clearly means that disappointingly we can no longer 100% guarantee specific delivery days to you either, but we will do everything in our power to try.
UK DELIVERY – PROCESS CHANGES
We would like to inform you that our courier has given us notice of re specification of service:
- Our gifts would normally require a signature. From now on, the courier will not be handing over the hand held device for a signature. They will instead log the first and last name of the person accepting the gift.
- If someone is unable to come to the door due to self-isolation, they will proceed as normal posting a contact card advising ways the recipient can arrange to get their gift.
- Hay Hampers recommend that, if someone you are sending to is concerned about opening the door, you contact them and suggest they find a way to communicate through the door or maybe an open window with the delivery person, to give their first and last name for 'signature'.
17th March
Our stock levels and staff remain in strong health and we will continue to ship orders on time.
16th March
INTERNATIONAL DELIVERY
International deliveries will continue to be attempted. However, due to decisions being made on a daily basis by governments and businesses that we cannot control, we cannot guarantee success within any particular time period and would advise against sending fresh food gifts (such as cheese and salmon) for this reason.
If there are changes made beyond our control nationally, forward orders may need to be cancelled.