The First Sustainable Christmas Hamper
From Hay Hampers The First Sustainable Christmas Hamper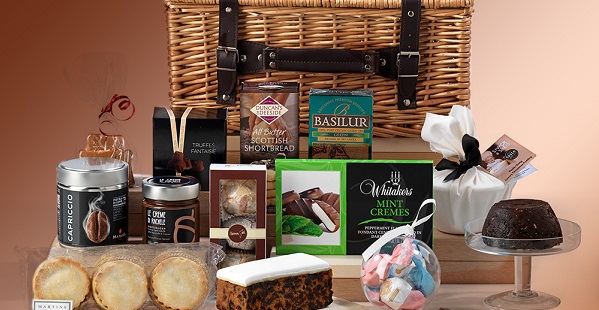 Hay Hampers is launching the Christmas Delights Hamper, a luxury gift designed for sharing over the Christmas period, with 100% recyclable and re-usable contents.
With the focus on eco-friendly sustainability, this seasonal hamper contains a selection of modern and traditional gourmet treats, all of which have been carefully hand-picked based on their ingredients and for their reduced environmental impact, thanks to their thoughtful, minimalist packaging.
The award winning Christmas pudding which comes with the hamper has been expertly wrapped in a natural, white cotton cloth, which can be re-used in a number of ways.
Premium Italian chocolate pralines are packed inside an attractive bauble. The idea behind this is to offer a product which can be hung from their own Christmas tree – either before as a "tree treat" or they can be re-filled with a number of creative ideas.

The coffee and the chocolate spread which come with the Christmas Delights are packaged in a recyclable jar, which can be re-used afterwards to contain either food or anything else the customer decides to fill it with.

The wicker basket made in buff single weave willow can be used afterwards in a number of creative ways, such as laundry baskets, planters and even as cat beds. It is durable and easy to clean, a versatile gift which stretches beyond the initial consumption of the products contained inside.
All other products have a paper or plastic packaging which can be easily recycled.
"We have strived to focus on the packaging to ensure that every product in this hamper has great value to the customer even after the contents have gone" explains Gabriele Da Re, Managing Director of Hay Hampers. "The selection process for our products is a prime step in the overall production of our hampers and gift sets. We hold blind tasting sessions with our team of gastronomy experts, and together we select the very best in artisan produce, always considering three critical control points – taste, ingredients and packaging. For us, sustainability is key and when we are brainstorming new and exciting ideas to bring to market, this is always one of the key factors in that process.'
ENDS
In 2020, we have created a new sustainable hamper, which you can find it at this link (or clicking on the image below):
For further information, please contact:
Elisabeth Och – [email protected]
Tel. 01476 550 420; @HayHampers
Keywords:
Christmas hamper, reusable hamper, sustainability, Christmas gifts, sustainable packaging, bauble, wicker basket
Notes to Editors:
Hay Hampers Ltd. is a family-run gift hamper company started in 1984 with four guiding principles – authenticity, freshness, sharing and trust – which remain central to the brand's success today. Their collection of gifts and hampers is a celebration of artisan and independent food and wine production from all over the world. Hay Hampers is considered one of the ten best hamper companies in the UK.
Posted By The Taste House at 24/11/2016