The Merriest Duo – Port and Stilton
Food and drink pairings are an art and there is no match merrier than Port and Stilton cheese, especially at Christmas.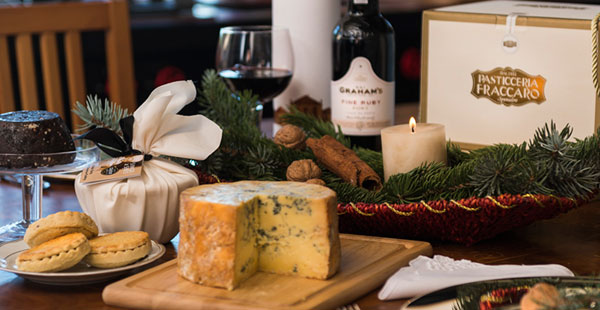 There is good reason a glass of port and some cheese can lift an important occasion such as Xmas. Port offers comforting flavours and an association to grand and jovial occasions past. Flavours dominant in Port include ripe berries and figs, raisins and toasted almonds, while Stilton cheese has a deeply savoury and salty tang that contrasts beautifully with the port's sweetness whilst also matching its power and intensity.
Top tips to enjoy the combination to the maximum
To decant or not to decant?
Late Bottled Vintage and Aged Tawny Ports do not need decanting as they mature in oak vats or casks, where any sediment will have settled prior to bottling.

If you wish to decant, bear in mind that the flavours are most expressive within 1 day of decanting. Ensure the decanter is completely clean and dry. We recommend leaving the bottle open and upright for 15 minutes before pouring into your decanter in a slow and steady stream. We recommend decanting 2-3 hours before you wish to drink the wine.
Temperature?
It is recommended that Tawny Port be served at between 14*c and 16*c, and Ruby Port be served between 16*c and 18*c

For flavours to develop to their optimum, take the Stilton out of the fridge 2 hours before eating to bring to room temperature.
For some Stilton eating etiquette, check out some expert advice from our Stilton producers Cropwell Bishop here.
Posted By The Taste House at 01/12/2020