Prosecco Celebration - Do you prefer it on its own or with Aperol?
We love a Prosecco! Icy cold, with tiny golden bubbles swirling around, it just seem to somehow make every celebration that bit more special and looks simply magical.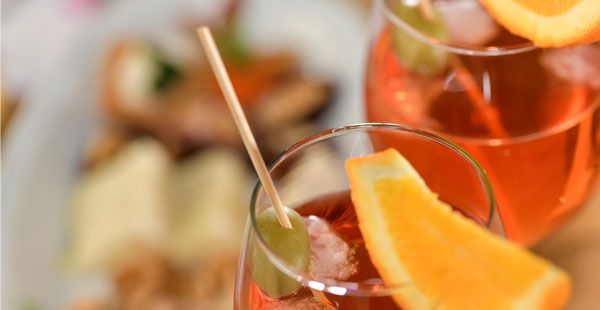 Now we finally have something to celebrate! With the easing of lockdown, we can meet with our loved ones again at long last and if that's not worth a toast with bubbly, we don't know what is?
Prosecco may have only been catapulted to stardom in recent years, but this amazing Italian marvel has a history going back many hundreds of years. North Eastern Italy has produced wine for millennia and many of its vineyards were already well established when the area was colonised extensively by the Greeks around about 800 BC.
The Glera grape which is used to produce Prosecco, is believed to be of Slovenian origin and was probably cultivated in the vineyards of the Italian village of "Prosecco" in Trieste which shares a border with Slovenia. It is thought to have been referred to by the Romans of the area, as far back as 200 BC, as 'Puccino'. The first documented mention of Prosecco comes in a poem written in 1754 by Aureliano Acanti.
One of our favourite ways to enjoy a glass of bubbly is as part of a cocktail, and having been here at Hay Hampers for some time now, a prestigious provider of Italian hampers and gifts - there is no better way than an Aperol Spritz.
The latest summer drink trend- this Italian aperitif can be enjoyed in the summer sun before dinner. Aperol is bright orange in colour and has a unique flavour - it is made to an old secret recipe involving bitter and sweet oranges, rhubarb and herbs and roots. To make the perfect Spritz cocktail you combine equal quantities of Aperol and Prosecco, top up with a splash of sparkling water and garnish with an orange slice, easy squeezy! Pure sunshine in a glass….
With our fantastic range of prosecco hampers, plus free delivery there's no reason not to send a hamper gift as a thank you, birthday hamper, congratulations hamper or just a thinking of you gift to those a little too far away to just pop round with a coolbag full of goodies to enjoy in the garden.
We even have the full Aperol spritz gift set available for delivery right now. If you are looking to go all out, team it with our Spritz Time Nibbles gift hamper, containing delicious authentic aperitivo Italian nibbles such as hand-rolled pizza breadsticks, olives from the foothills of Mount Etna and nduja, a spreadable spicy Calabrian salami all accompanied by a selection of baked dough snacks either infused with red wine or fennel seed. A truly fantastic gift, or a well-deserved treat for yourself!
If cool bags are your thing though, we have curated some wonderful selections, all prepacked in the highest quality insulated bags, perfect for summer parties and gatherings. Whether it's a Cricket Tea, packet with all the essentials for the first and second innings, the Ultimate British Cheese Coolbag or the Perfect Picnic for Two, with his and hers drinks, as well as a tasty assortment of treats. This one also makes the perfect anniversary hamper.
What's your favourite way to drink Prosecco, or are you more of a Champagne connoisseur? Let us know on our social media.
Posted By The Taste House at 05/05/2021