Hay Hampers thrilled to be delighting Foster carers
Last month we were proud and delighted to be able to work for Leicestershire County Council to put together thank you hampers for county-based foster carers and the children in their care.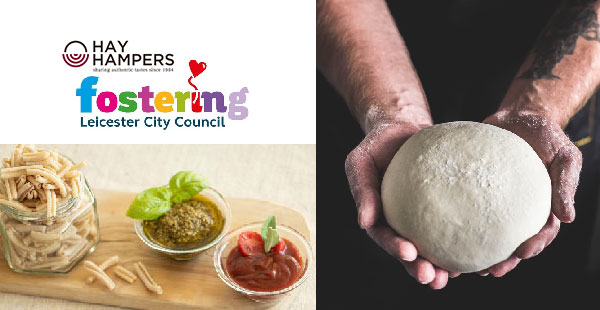 We worked with them to source not just the components of nutritious and delicious meals but food that was fun to put together and bake with the children as an activity in itself while working through the difficult lockdown and home schooling period.
LCC wanted to show their appreciation for all the support, dedication and reassurance that the carers had given the children in this very troubling and concerning period of change for everyone. And the results and feedback they have seen through social media seems that it all went down very well, with exactly the desired effect of fun as well as full tums!
In the hampers were the components to make delicious (and 100% authentic) Italian pizzas complete with the pizza dough base mix, tomato sauce, olives,spicy nduja sausage and pepperoni toppings, plus the components for a second delicious meal of durum wheat pasta plus the choice of either pesto or tomato based sauce and freshly grated parmesan cheese. With plenty left over for additions to future meals.
There were also puddings provided! Two bake kits – one to make coconut and raspberry sponge cake and the other for cranberry and apricot cookies.
All simple enough for the children to prepare themselves (or with basic help) as a fulfilling and educational activity while at home and unable to attend school.
The non-food addition of 2 books, the Unhurry and Unworry book published by Usbourne books, made for a rounded and complete gift with plenty to keep everyone busy. The books are both great write-in activity books to entertain as well as calm, soothe and relax with mindfulness activities such as mood grids and yoga as well as mazes, puzzles and ideas to get moving.