3 Might Be A Crowd …But 6 Can Be A Party! Send a hamper to celebrate
As Spring slowly but surely moves into Summer, we welcome the chance to reconnect with family and friends in the garden, on the balcony or whatever outside space is available to safely share a bite to eat, a couple of celebratory drinks and some well needed chit-chat! It's time to wipe down the patio furniture, get some throw rugs, blankets or big jumpers out and start enjoying socialising again.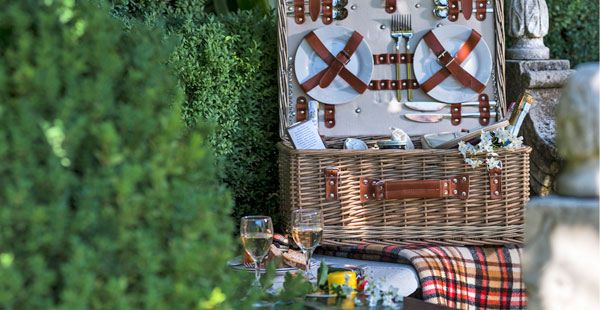 Many of us have spent extra time at home this year, and we have seen an increase in home and garden DIY. Fantastic creations are popping up all over the place, from fire pits and BBQs to beautiful handmade pallet furniture and of course the obligatory garden bar!
But, how do you facilitate the socially distant feeding of everyone at a get-together now with all the complex guidance in place?
Here at Hay Hampers, we have been helping people to share a little love in the form of food hampers, large and small for the past 35 years, and we are proud to say we are here to help!
One option that takes all the stress and worry out of hosting a small gathering is to arrange individual gourmet hampers for each person, beautifully tailored to their individual tastes and predilections, certain to make your rule of six gathering feel even more special.
Whether is an afternoon tea hamper, with our freshly baked scones, tangy raspberry jam and sumptuous clotted cream, or beer hamper filled with tasty bar snack style nibbles that have been perfectly taste matched to the refreshing lager or ale, we have a luxury hamper gift to suit all your needs.
We pride ourselves in our range of specialty dietary hampers too, with a wide range of gluten free hampers, vegan hampers, diabetic hampers and a stunning new range of Halal suitable hampers, so we have a gift hamper option for everyone in your group.
We have all missed big birthdays and special life events so for more special meeting occasions, why not consider a prosecco hamper, perfect for celebrations of any size! Be it a wedding anniversary, birthday gift or welcoming a new arrival into the world like one of our team has recently, a little fizz always goes down well.
So whatever your needs, the food and drink aspect is covered. All you need to do is send the invites!
Posted By The Taste House at 28/04/2021