For the Grand Gesture - Luxury Hamper Baskets
Following a significant uplift in demand last Christmas for larger hamper baskets, this year we have given new energy to our range of £200 and over hamper gifts.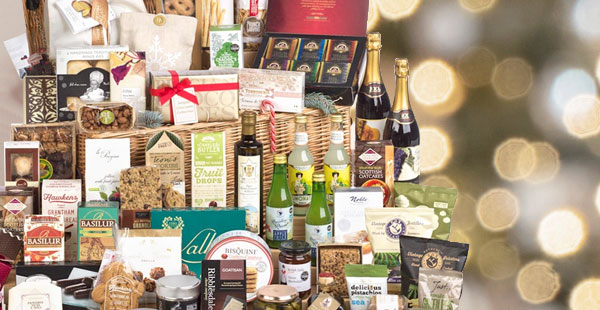 We know that a growing number of our customers are looking to send a gift that truly is a grand and impressive gesture of their good will and gratitude. And this is what we have sought to attain for you with our new and improved assortment of huge hamper gifts.
Now we are completely confident that nowhere will you find a greater range of extra-large hampers.
We now have a range of 15 hampers priced £200 or more, from a previous range of 5.
Hamper contents also vary to ensure there is something to suit your needs. For example we have hampers both with and without alcohol. Pure wine gifts. We have hampers that are both alcohol free and vegetarian and as such can be suitable for gifting to Muslims.
We have hampers full to the brim with fresh food or with entirely non-perishable longer life products. Some hampers also contain foodie accessories such as cool bags, cheeseboards etc so that items will be kept and enjoyed as lasting reminders of your generous gift.
Our range also includes a very foodie Italian based hamper called Delizioso, which will be the delight of many a chef with plenty of treats as well as ingredients to excel and advance your pantry.
Our extra-large hampers offer excellent value in the market place and contain up to 80 items, meaning that layer after layer will be revealed with each item feeling like a gift in itself.
An added benefit of our very big hampers is that the extra-large lidded wicker baskets can be kept and reused in a sustainable way. For example; as a storage chest for bedding, shoes, toys or even topped with a piece of perspex or wood and made into a coffee table.
Posted By The Taste House at 10/11/2020